Rotary chair
SYNAPSYS MED4
Rotary chair
SYNAPSYS MED4
The SYNAPSYS MED4 rotary chair completes the battery of video-nystagmographic tests with rotational kinetic exams.
The kinetic tests allow the study of nystagmus induced by angular accelerations applied to the vestibular system, with or without visual reference.
Through SYNAPSYS VNG software, you can control the position of MED4 chair and the amount of energy released to the labyrinth. These examinations then allow the precise calculation of vestibular gain, phase, symmetry and time constants.
ALL KIND OF KINETIC STIMULATIONS
MED4 rotary chair can be used in manual mode or controlled by the SYNAPSYS VNG software, and allows to perform a wide range of kinetic examinations. Sixteen stimulation waveforms are available, including various sine waveforms, multi-frequency, speed step and sudden stop tests.
MAXIMUM COMFORT AND SAFETY FOR THE PATIENT
The MED4 rotary chair can be used for any other vestibular test, including, of course, kinetic tests. The fully reclining backrest allows the patient to be easily positioned at 30° for caloric tests or in a supine position for BPPV treatment maneuvers.
COMPLETES YOUR VESTIBULAR SYSTEM
The MED4 rotary chair, which perfectly integrates with the SYNAPSYS VNG system, is the ideal tool to integrate and complete your balance clinic and examine low and medium frequencies.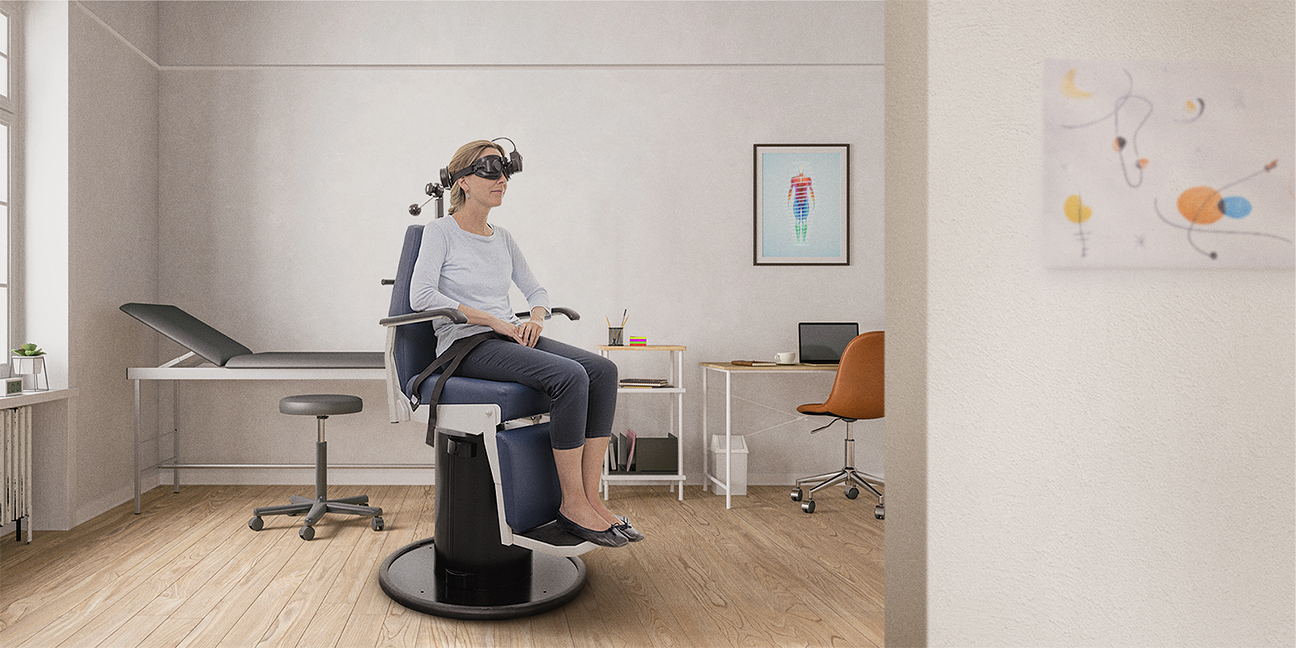 Maximum comfort and safety
Ergonomically designed
Its ergonomics ensure patient comfort and safety throughout the examination period.
Customizable test protocols
The MED4 can be used for several vestibular tests complementary to the kinetic test.
Perfectly Integrated with SYNAPSYS VNG
If combined with wireless VNG, freedom of movements is maximized.
Maximum values

Max speed: 200 °/s
Max acceleration: 100°/s2
Automatic control coefficient: dp/dt = 85°/s

Electrical specifications of the chair

Power supply: 230 V / 50 Hz or 115 V / 60 Hz
Consumption: 700 VA

Electrical specifications of the power supply box

Power supply: 230 V / 50 Hz or 115 V / 60 Hz
Power input: 920 VA
Power output: 915 VA
Protection through a magnetic-thermal overall switch

Mechanical specifications

Maximum burden on the axis: 172 kg (saddlery + patient)
Pedestal weight: 95 kg
Saddlery weight: 42 kg
Dimension: 190 cm horizontal length

Operating environment

Temperature: 10°C to 40°C
Humidity: 30% to 90%
Pressure: 700hPa to 1060hPa

Storage and transport

Storage Temperature: 0°C to 45°C
Humidity: 10% to 100%
Pressure: 500hPa to 1060hPa

Minimum system requirements

Operative System: Windows 10 64 bit, Windows 11
Processor: Intel I5-6xxx (6th generation)
RAM: 8 GB
1 available USB port