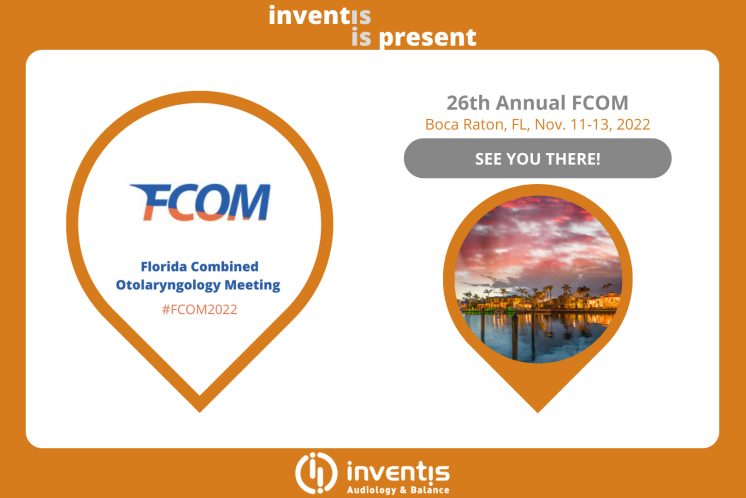 26th Annual Florida Combined Otolaryngology Meeting
Boca Raton, FL, November 11-13, 2022
We are ready to meet you in person once again, at the 26th Annual Florida Combined Otolaryngology Meeting (FCOM), which will be held from November 11 to 13 at the Boca Raton Resort in Boca Raton, FL.
FCOM is a combined annual meeting that includes the Florida Society of Otolaryngology Head and Neck Surgery, Florida Society of Facial Plastic and Reconstructive Surgery, Network of Florida Otolaryngologists and Network of Medical Audiology Professionals.
Inventis will be exhibiting at booth number #457, where you can discover its state-of-the-art equipment.

Visit us! We will be more than glad to show you our:
Clinical solutions:  
Piano

- the Inventis audiometer with 2 separate and independent channels which features Multi Frequency and High Frequency beside the standard tests, all easily managed via a wide touch screen colour display;

Clarinet

- Inventis middle ear analyzer, featured with all the tests needed for an accurate investigation of middle ear disorders such as automatic and manual tympanometry, acoustic reflex threshold, decay and latency examinations, ETF for intact and perforated eardrums, high frequency and multi-component tympanometry.
Diagnostic solutions:
Cello

- Inventis audiometer fully controlled through the software Maestro, which is capable of performing beside the standard tests, several additional tests including QuickSIN™, HF audiometry, and video-VRA;

Trumpet

- Inventis advanced Real Ear Measurement system and diagnostic audiometer. The best combination unit in terms of portability, convenience and size.
Balance solution:
SYNAPSYS VNG

-

Inventis line of video nystagmography systems with

wireless camera,

ideal for a complete vestibular analysis.
And much more!
We invite all of you to participate in the 2022 Florida Combined Otolaryngology Annual Meeting, either online or in-person! We look forward to seeing you at booth #457!