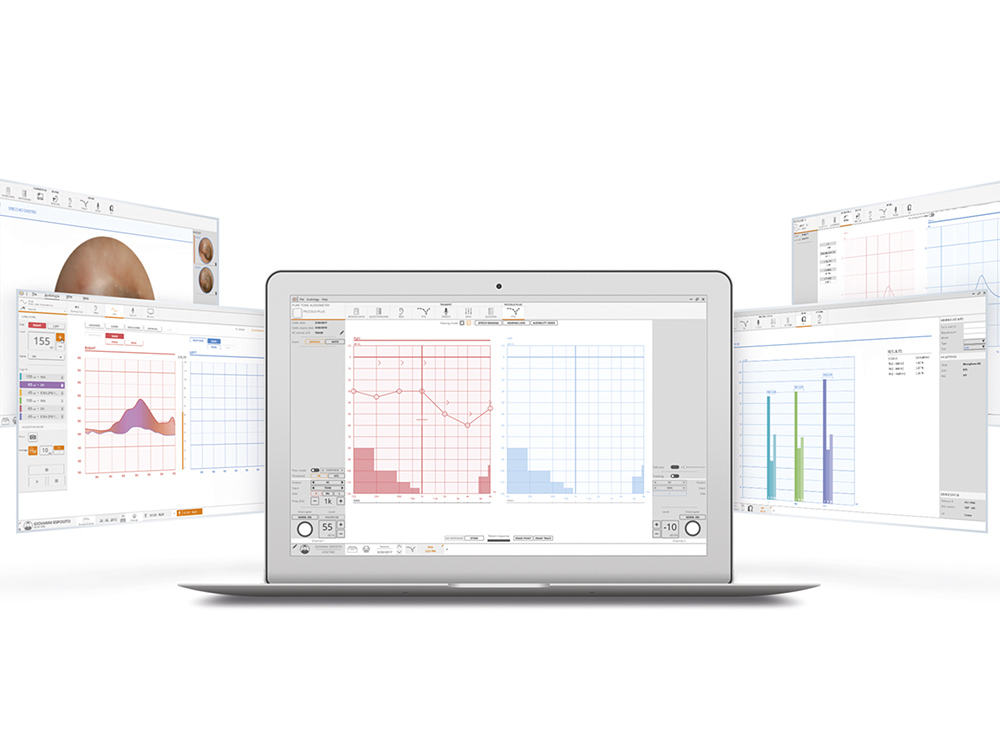 As an orchestra has its conductor, so Maestro is the core of your Inventis instruments set-up, allowing you to easily manage the patient data and fully interact with your audiology equipment, bringing your daily practice to a new level of technology. 
ORCHESTRA CONDUCTOR
Thanks to the integrated modules, Maestro gives you the chance to control all the Inventis Audiology Equipment, switching easily from Audiometry, to Tympanometry, HIT, REM and Video-Otoscopy.
HYBRID CONTROL
Thanks to Hy-Tech, the Inventis hybrid technology, you can fully control you audiometer Bell, Harp or Piano through the computer using Maestro.
LIVE VIEW
All the Inventis audiological devices feature Live View: through Maestro you can see the exam while in progress on the display of your computer.
THREE OPERATING MODES
Maestro allows the user to choose the configuration of his database. It can be installed with proprietary database, with a Noah database (as a Noah module) or without database.
NETWORKING
Maestro with a proprietary database can work on a single computer, or it can be installed in a network environment. In this way, the medical records and exam results can be easily consulted from any other computer on the local network.
Intuitive interface
Maestro is designed to simplify your work with an intuitive and easy-to-use interface.
Three operating modes
Choose how to install it: with or without proprietary database, or as a Noah module.
One software for everything
Maestro gives you the ability to control all your Inventis equipment through a single software.
Operating modes

Noah module
Stand-Alone with proprietary database
Stand-Alone without database functions (file based)
Third-party Applications (exchange data with external applications): MII proprietary protocol and GDT standard

Available tests

Audiology exams
REM
HIT
Video-Otoscopy
Video and Images acquisition
Questionnaire
Remote audiometry and video-otoscopy 

Compatible devices

Triangle (Audiometer)
Bell (Audiometer)
Harp (Audiometer)
Piano (Audiometer)
Piccolo (Audiometer)
Cello (Audiometer)
Trumpet (REM, Audiometer)
Drum (HIT)
Flute (Middle-Ear Analyzer)
Clarinet (Middle-Ear Analyzer)
Viola (Middle-Ear Analyzer, Audiometer)
Timpani (Handheld Tympanometer, Audiometer)
Delfino (Otoscope)
MediCam (Video-endoscopy camera)
MediCam HD (HD Video-endoscopy camera)
Flexia 2 (Video-Nasopharyngoscope)
Analog-to-USB video converter 

Interface with equipment

USB connection

PC minimum requirements

CPU:

Intel® i5, 6th generation or above, 8 GB RAM

Display:

Resolution: 1366x768 (16:9) or higher
Scale and Layout: 100% dpi (recommended)*

Operating System:

Windows 10 and Windows 11, 64 bits

*: higher scale settings can be set, but not with the lowest display resolutions

NOAH minimum requirements
NOAH 4.4 or greater (or NOAH Engines supporting NOAH 4.4 or greater)
Software support
Remote assistance tool: included
Software updates
Available for free
MII interface
Library for interfacing Maestro with 3rd party software available upon request (IT technician intervention requested)