REM System-Audiometer
Trumpet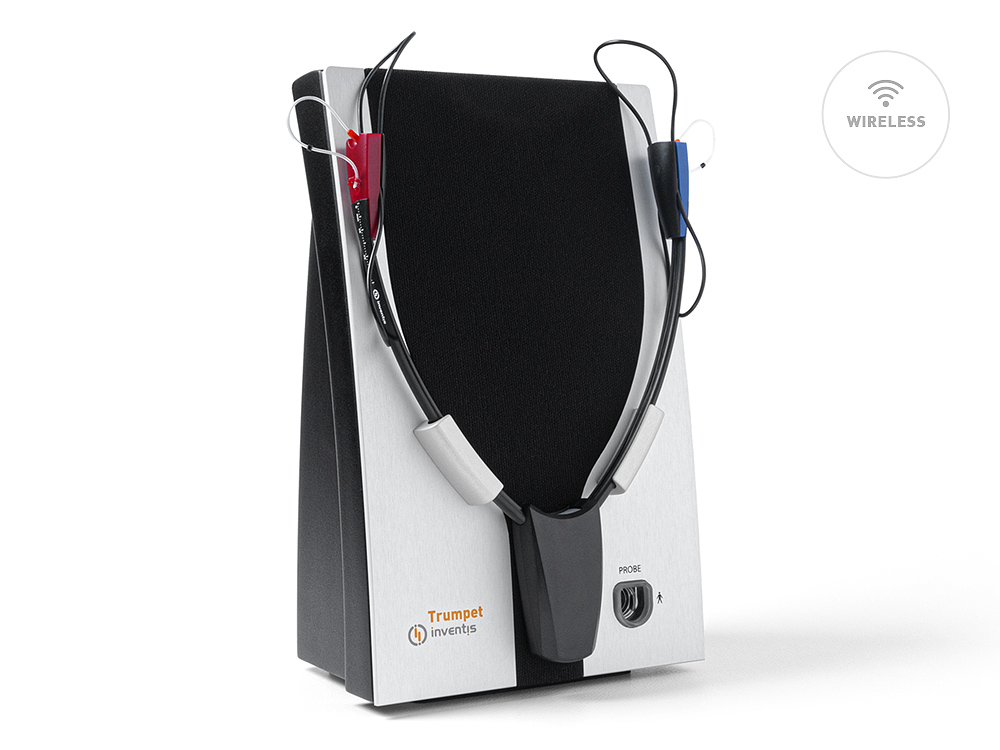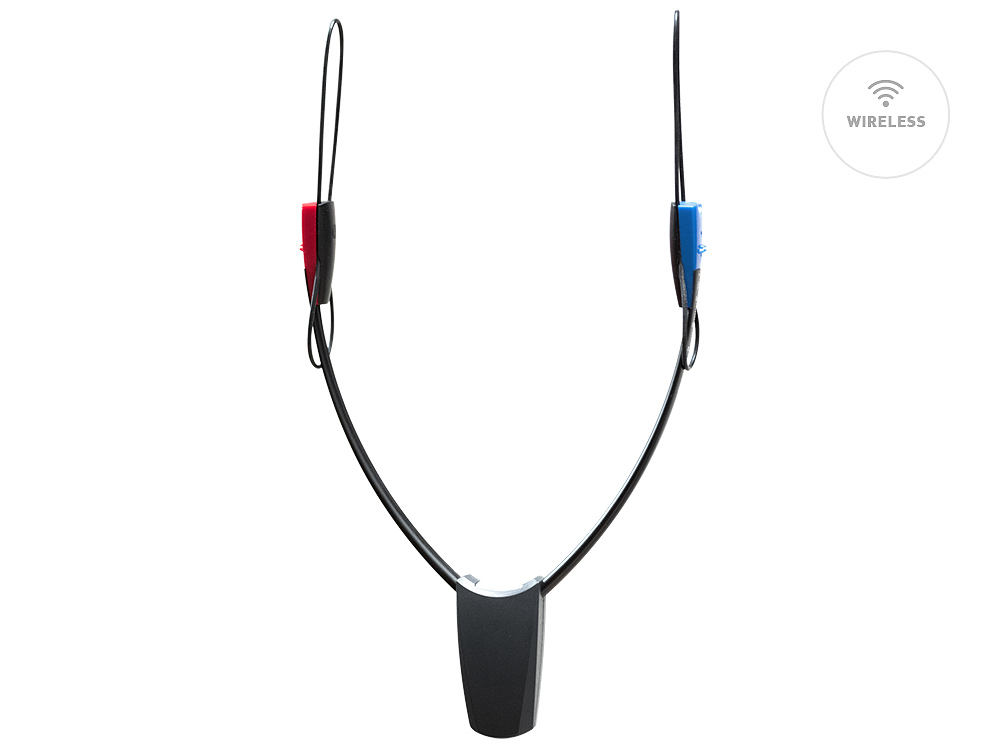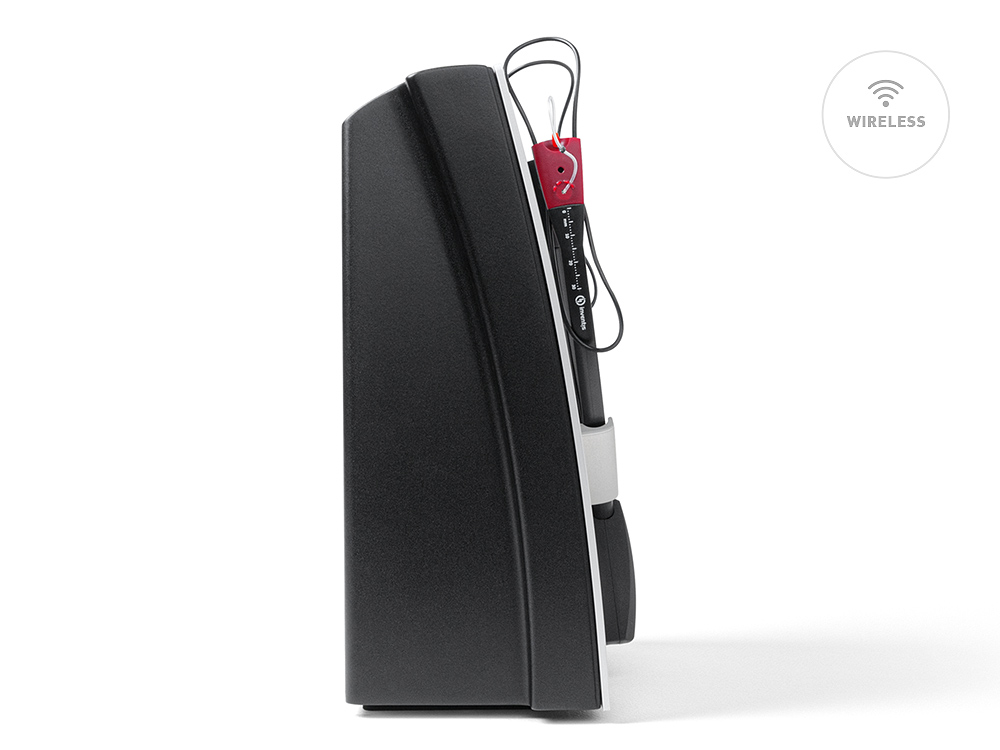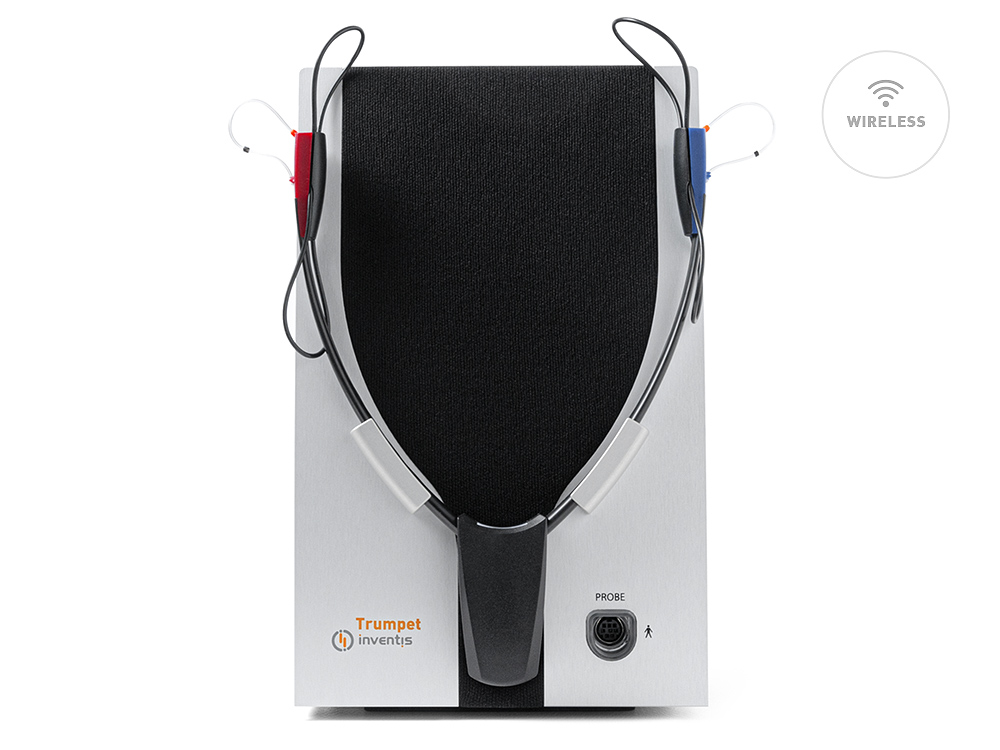 REM System-Audiometer
Trumpet
Trumpet is an advanced and easy-to-use Real Ear Measurement system, capable of performing quick and accurate in-situ measurements thanks to its small lightweight probes and its built-in amplified speaker. It also incorporates a diagnostic audiometer for carrying out air, bone and speech audiometric exams.
THE MODELS
Trumpet is a scalable system, available in the following configurations:
Trumpet REM
To fit hearing aids using standard GAIN/RESPONSE measures or
Speech mapping.
Trumpet AUD
To perform AIR, BONE, Free Field Pure Tone and Speech audiometry exams, Hughson-Westlake automated audiometry, QuickSIN™ (opt.), Master Hearing Aid and Stenger.
Trumpet REM & AUD
To get the most complete solution (audiometry and REM). Optional licenses are available for Trumpet REM and Trumpet AUD to unlock, respectively, audiometry or REM functions.
PROBE SYSTEM AND BUILT-IN SPEAKER
Trumpet makes use of lightweight probes, available both wired and wireless (opt.), which allow bilateral testing to speed up the exam. The built-in speaker can be used for reproducing signals, selectable from a library, during REM tests, as well as for performing audiometric exams in free-field.
WIRELESS PROBES
Innovation and technology in just 50 g / 0.11 lb, make wireless probes for Trumpet the lightest available on the market. Trumpet's wireless probes are designed to improve patient's comfort and give complete freedom when performing in-situ measurements, thanks to a stable Bluetooth connection and up to 4 hours of uninterrupted use.
COMPUTER CONTROL
Connect Trumpet to the USB port of your Windows® computer and you are ready to go: no driver required. You can control Trumpet through the amazingly user-friendly Maestro software interface and, if need be, transfer the data directly to Noah.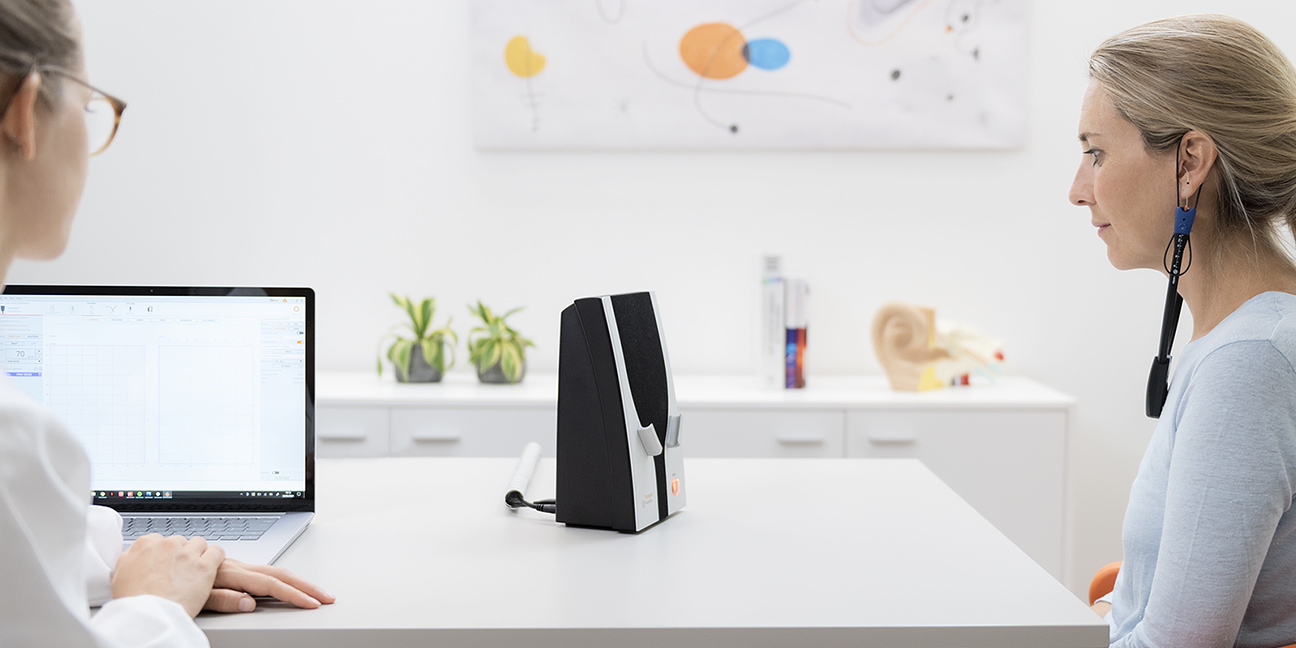 Wireless Probes
Designed to improve patient's comfort and freedom when performing in-situ measurements.
Standard measurements and speech mapping
Trumpet allows you to easily and quickly demonstrate the benefit of wearing the hearing aid.
REM & AUD
Built-in speaker for REM and audiometry.
Configurations
Trumpet REM – Real Ear Measurement system with wired REM probe
Trumpet AUD – Diagnostic audiometer
Trumpet REM & AUD – REM system and audiometer with wired REM probe
Trumpet REM Wireless – Real Ear Measurement system with wireless REM probe
Trumpet REM & AUD Wireless – REM system and audiometer with wireless REM probe
REM system
 
Available signals
Stimuli:
White noise, pink noise, ICRA, ISTS, rainbow passage, real speech, mixed environment sounds (e.g. doorbell, phone ring), frequency lowering–s, frequency lowering-sh
Available outputs and transducers
In-situ headset (wired or wireless using low latency Bluetooth)
Built-in loudspeaker
Insert earphones for RECD (ER-3C)
Available tests
REUR/REUG, REAR/REAG, REIG, REOR/REOG, MPO, advanced, live speech, RECD (opt.)
Frequency, measurement and intensity range
Frequency range: 125 Hz – 12 kHz
Reference microphone measurement range: 40 – 110 dB SPL
Probe microphone measurement range: 40 – 130 dB SPL
Intensity range: 50 – 90 dB SPL
Probes
wired or wireless
Audiometer
 
Available signals
Stimulus: pure tone, warble tone
USB audio for speech audiometry
MIC input for live speech audiometry
Masking: NBN, WN, SN
Available outputs and transducers
AC: Headphones (DD45 / TDH-39)
Insert earphones (ER-3C / IP30)
BC: B-71 bone vibrator
Free field
Available tests
Pure Tone audiometry (HL and UCL); Auto threshold (modified Hughsone-Westlake); Speech audiometry (SRT, WRS, MCL, and UCL); 2 independent channels Master Hearing Aid; QuickSIN® test (opt.); Stenger, with pure tone or speech stimulation; Oldenburg Matrix Sentence Test® (opt.)
Audiometric signals specification
Attenuator step: 1, 2 and 5 dB
Presentation: Continuous, Pulsed (0.5, 1, 2 Hz and custom)
Pure tone: frequencies and maximum levels
Freq. range:
AC: 125 - 8000 Hz
BC: 250 - 8000 Hz
Intensity:
AC: -10 to 120 dB HL
BC: -10 to 80 dB HL
Device specifications
 
Calibration
Validity: 12 months
Computer interface
Connection: USB (driverless)
Compatible software: Inventis Maestro (Noah compatible)
Minimum system requirements: refer to Maestro software technical specifications 
Power supply
15V, 2A cont., through an external medical grade 100- 240 Vac 50/60 Hz power supply
Mechanics
Size (WxDxH): 15.5 x 10 x 24.5 cm / 6.1 x 3.9 x 9,7 in
Weight: 1.5 kg / 3.5 lbs