Screening audiometer
Triangle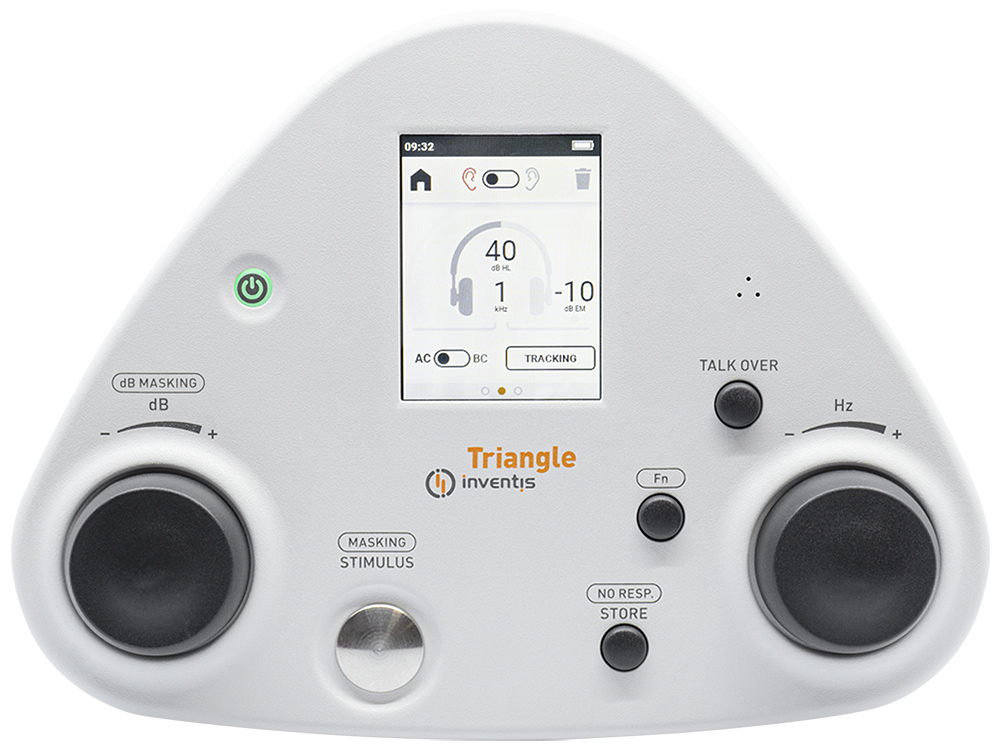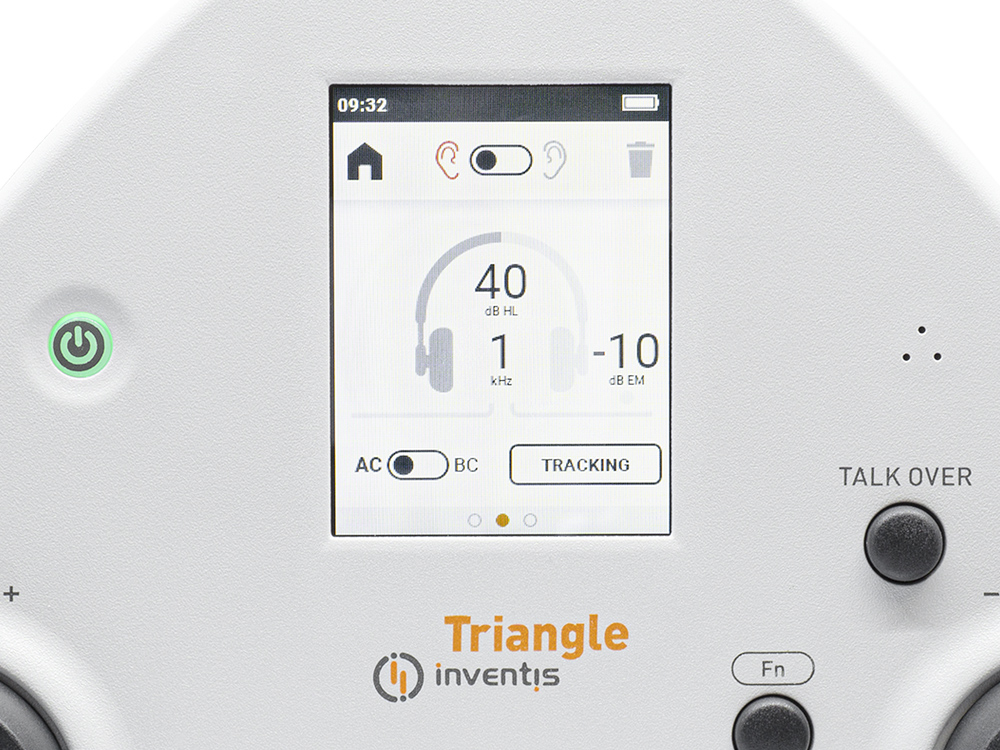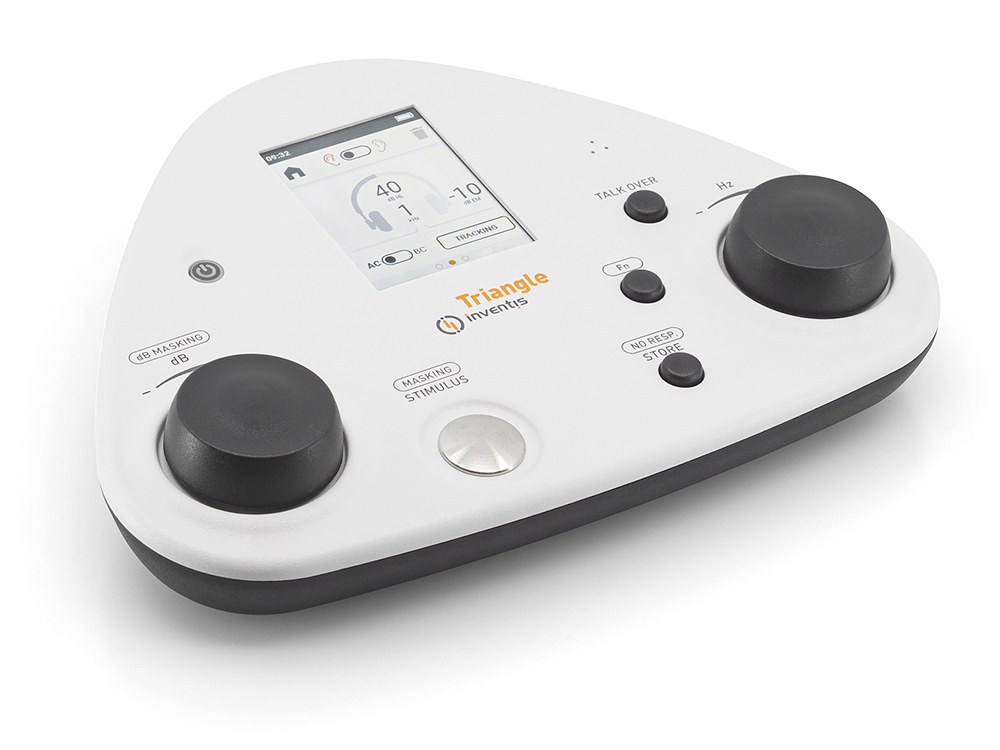 Screening audiometer
Triangle
Triangle is a battery-operated, portable screening audiometer, capable of performing automatic and manual pure tone audiometry exams in air conduction as well as, optionally licensed, in bone conduction. Triangle is the ideal choice for professionals on the move.
THE STATE-OF-THE-ART
Triangle represents the state-of-the-art among the screeners:
The only one with a graphical display with capacitive touchscreen
The only one with a rechargeable lithium battery
The only one featuring bone conduction with masking
…and the only one with an astonishing Italian design!
AN UPGRADABLE DEVICE
The basic version of Triangle offers manual and automatic pure tone audiometry in air conduction, with a testing range from 125Hz to 8kHz.
You can upgrade at any time your Triangle with the following optional licenses:
Bone Conduction license 
To conduct pure tone audiometry in bone conduction and to enable masking signals.
Computer-connectivity license
To transfer exam results to your Maestro or Noah database. 
AUTOMATIC TESTING
The Automatic Pure Tone audiometry can be performed choosing among three different protocols:
Hughson- Westlake
Quick Search
Fixed Intensity
In addition to the Hughson-Westlake technique for determining the AC threshold, the user can select the Quick Search for threshold identification, which is based on the first response starting from the minimum selected level, or opt for the Fixed intensity method, a basic screening test conducted at a fixed intensity level.
PORTABLE SYSTEM
Lightweight and compact, Triangle is extremely handy and easily transportable even thanks to the dedicated soft carrying case included with the device. The presence of a rechargeable Li-Ion battery makes Triangle the perfect choice for professionals on the move. Triangle is also provided with internal memory to store the exams of up to 100 patients.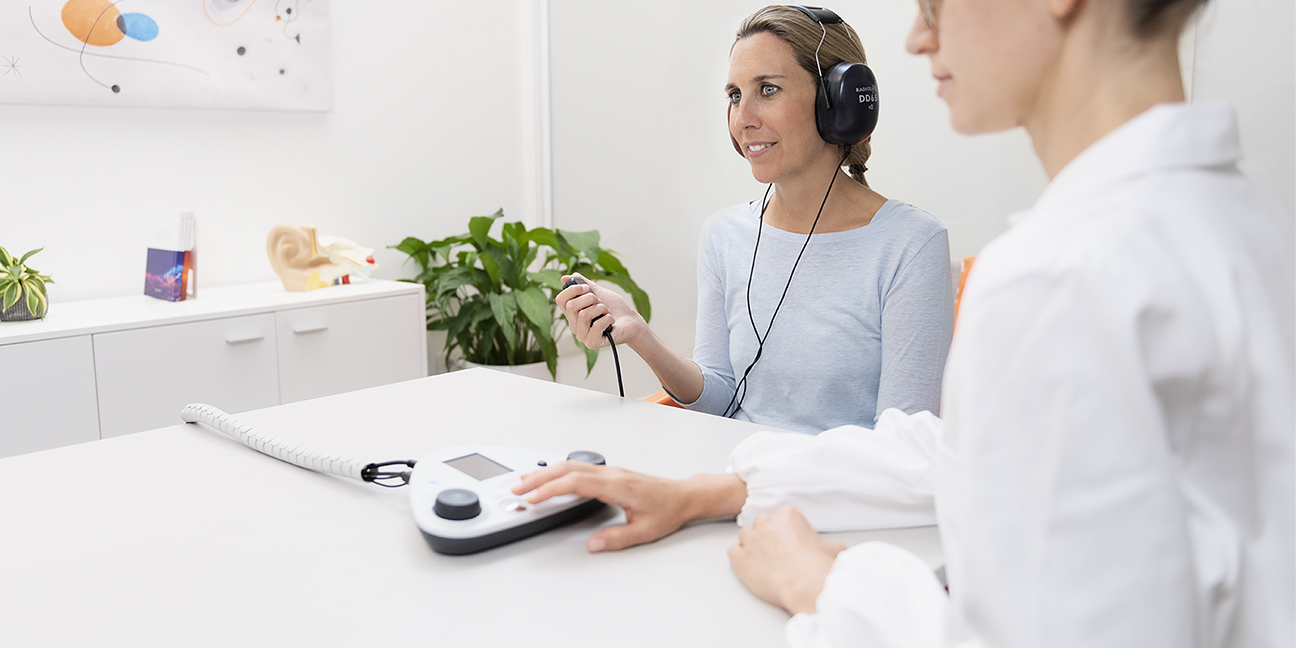 425 gr
Triangle is extremely handy and easily transportable. It weights only 425 grams (15 oz).
12+ hours of uninterrupted use
Triangle is equipped with recheargeable lithium battery.
Complete hearing assessment
Bone conduction
Optional bone conduction license available with masking.
Available signals
Stimulus: pure tone, warble tone
Masking (optional, with "Bone Connectivity" license): NBN, WN
Signals specification
Attenuator step: 5 dB
Presentation: Continuous, Pulsed (1 and 2 Hz)
Warble: 5 Hz sine wave modulating signal
Available outputs and transducers
AC: DD45 or DD65 headphones, ER-3C insert earphones
BC: B71 bone vibrator
Available tests

Manual Pure Tone audiometry
Automatic Pure Tone audiometry (available algorithms: HughsonWestlake, Quick Search, Fixed Intensity)

Intensity
AC: -10 to 100 dB HL
BC: -10 to 60 dB HL
Frequency range
125-8000 Hz
Patient-operator communication
Talk over: built-in microphone
Patient response trigger
Interna database
Up to 100 patients
Calibration
Validity: 12 months
Connectivity
USB driverless connection (opt.)
Compatible software: Inventis Maestro
Display
Type: Graphical color TFT LCD, capacitive touchscreen
Size: diagonal 2.8", 43.2 mm x 57.6 mm
Resolution: 240 x 320 x RGB
Power supply
Internal battery: Lithium-Ion rechargeable battery
Battery life: more than 12 hours of continuous use
Main Unit: 5 Vdc, 1.4 A
External dedicated USB adapter: 100-240 Vac, 50/60 Hz, 0.3-0.15 A, IEC 60601-1 compliant
Mechanics
Size (WxDxH): 21 x 16 x 4 cm / 8.3 x 6.3 x 1.6 in
Gross weight: 425 g / 0.94 lbs
Freight Packing
Size (WxDxH): 40 x 30 x 18 cm / 15.8 x 11.8 x 7.1 in
Gross weight: 2500 g / 5.51 lbs