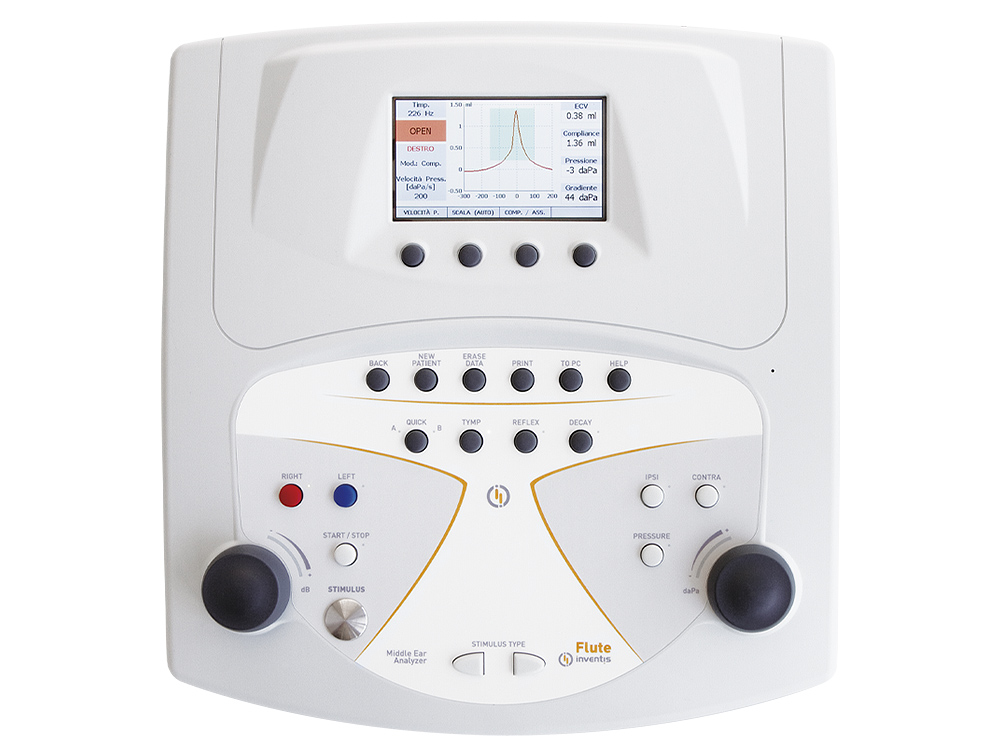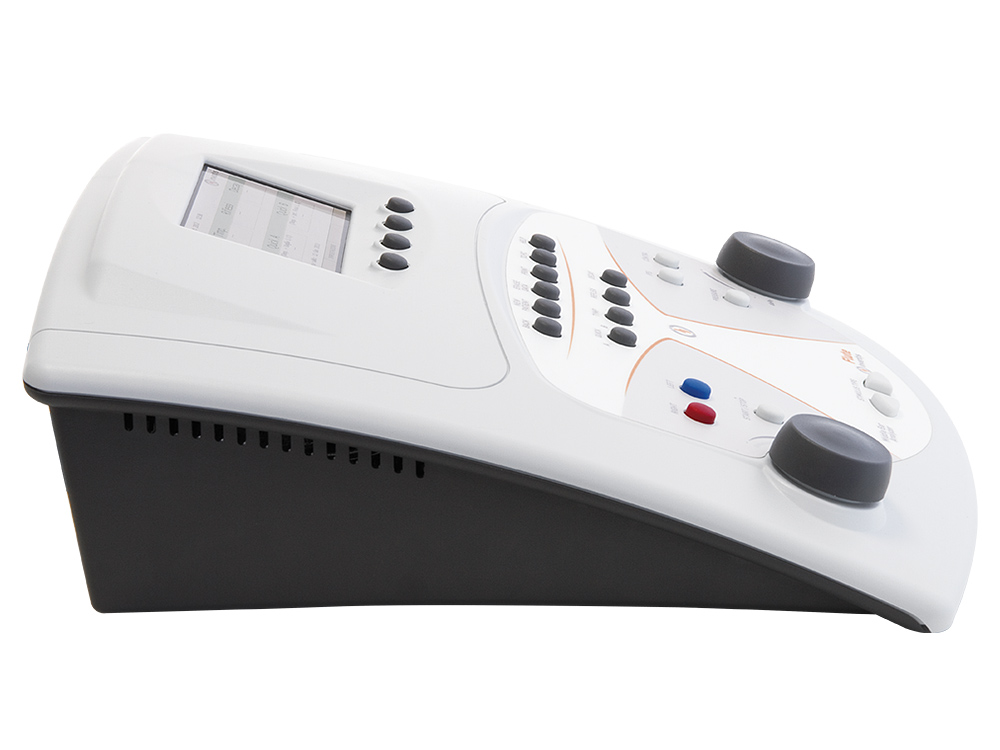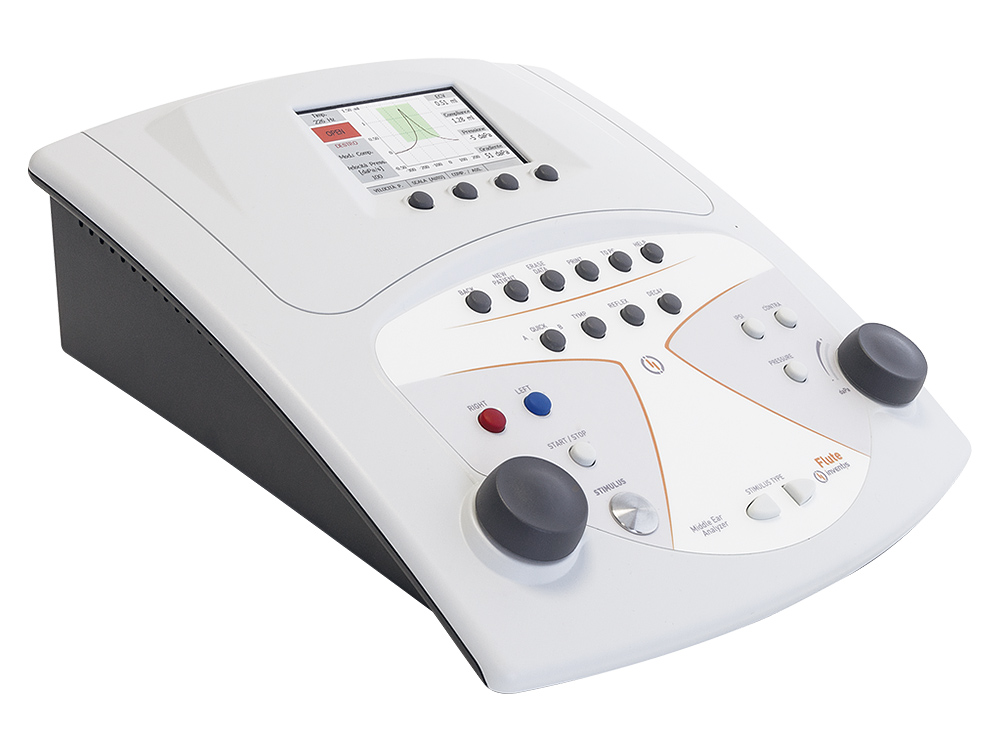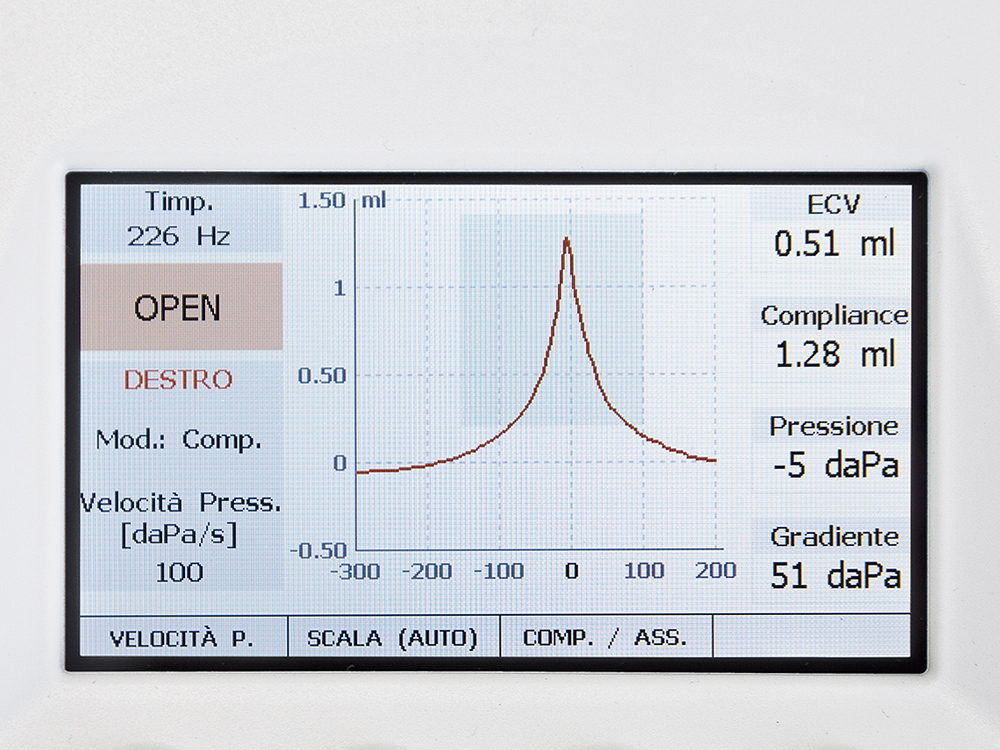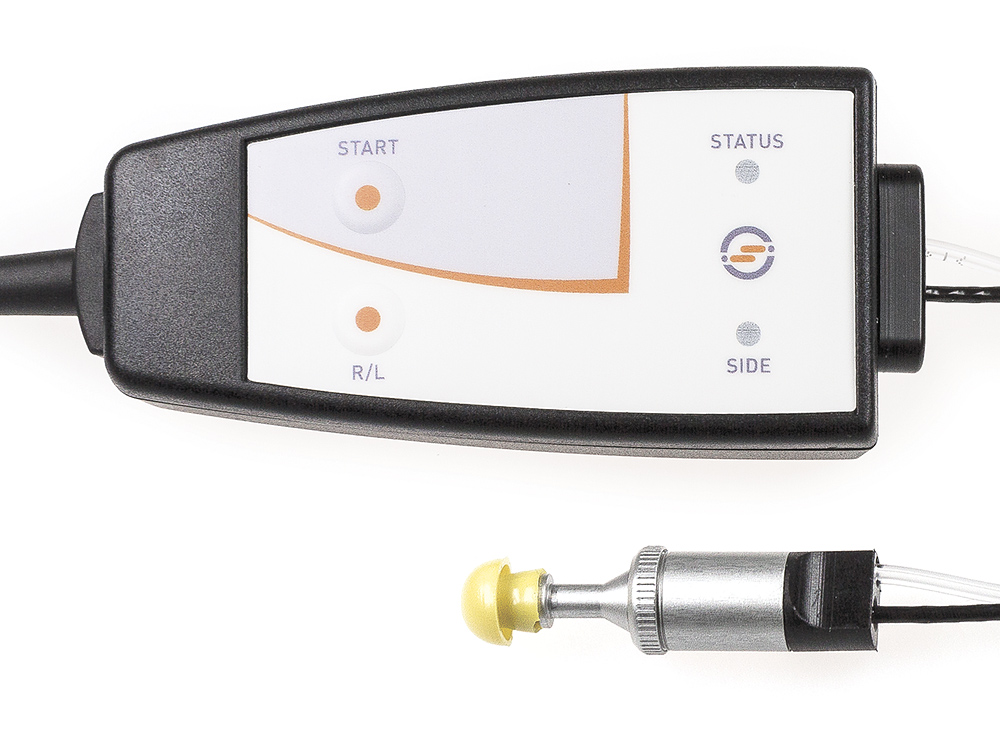 Flute is a diagnostic middle ear analyzer, capable of performing incredibly fast and reliable automatic sequences of tympanometry and reflex threshold tests, as well as manual reflex and reflex decay tests, ETF test, and high frequency tympanometry.
THE MODELS
Flute is available in three models: Basic, Plus and HF. The following table is an overview of the tests available on each version.
 
BASIC
PLUS
HF

Automatic tympanometry

✓
✓
✓

Manual tympanometry

−
✓
−

Reflex test

 
 
 
Fixed intensity
✓
✓
✓
Growing intensity
✓
✓
✓
Automatic threshold
✓
✓
✓
Manual
−
✓
−
Acoustic reflex decay
−
✓
−
Quick test (tymp. + reflex seq.)
✓
✓
✓
ETF
 
 
 
TM intact
−
✓
✓
TM perforated
−
−
✓

Probe tones

226 Hz

226 Hz

226 Hz

 
 
1000 Hz
(*)

1000 Hz
(*) Available through optional activation license
THE PROBE
Flute features an extremely light, small and sturdy metal probe, which can be very rapidly disassembled and cleaned. The probe is connected to the small Control Box, through which you can select the ear and start the exam.
NOAH & MAESTRO INTEGRATION
Simply connect Flute to a USB port on your computer (no drivers needed), and you can transfer exam results into your Maestro or Noah database. With the live view feature, you can have a wide view of the examination in progress on the computer display.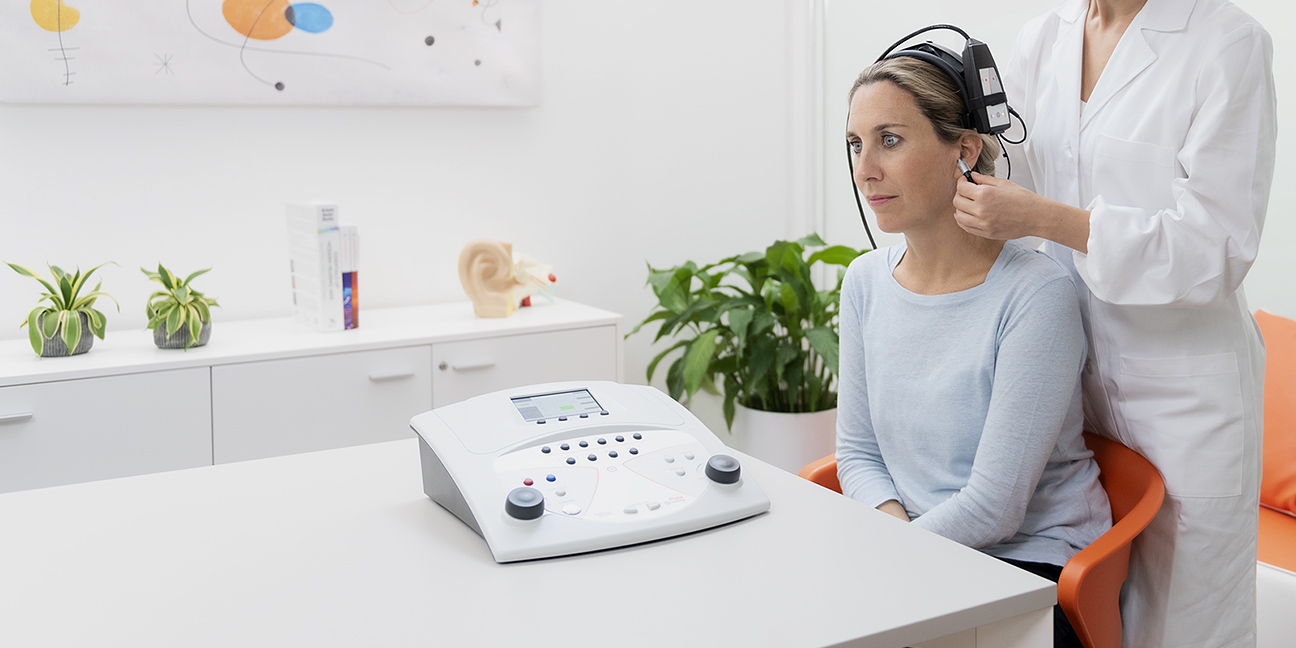 Few seconds
Run your tests in just a few seconds.
3 different models
Choose the model that best fits your needs.
Maestro
No drivers needed, transfer directly your exam results into your Maestro database.
Probe tone
Frequency: 226 Hz; 1000 Hz (Flute Plus w/optional license and Flute HF)
Level: 85 dB SPL (@ 226 Hz); 75 dB SPL (@ 1000 Hz)
Volume range
0.2 to 8.0 ml (at 226 Hz)
0.9 to 16 mmho (at 1000 Hz) (Plus and HF)
Pressure system
Rotary type pump with endless flow
Manual pressure adjustment available in the tympanometry and reflex tests (Flute Plus only)
Available tests

Tympanometry (automatic)
Acoustic Reflex Threshold (automatic)
2 Automatic test sequences (tympanometry + reflex test)

Only Flute Plus

Tympanometry (manual)
Acoustic Reflex Threshold (manual)
Acoustic Reflex Decay
Eustachian Tube Function (intact TM)

Only Flute HF

Eustachian Tube Function (intact and perforated TM)

Tympanometry
Viewing mode: absolute or compensated
Single scan
User selectable pressure range
Maximum range: -600 to +400 daPa
Safety limits: -800 daPa and +600 daPa
Available rates: 50, 100, 200, 300 daPa/sec and AUTO (100-300 daPa/sec)
Manual pressure adjustment (Flute Plus only)
Auto start feature
Acoustic reflex test

Ipsilateral and contralateral stimulation
Non-acoustic stimulation (Flute Plus only)
Stimulus ON-Time: selectable from 0.5s to 2.5s
Stimulus OFF-Time: selectable from 0.5s to 2.5s
Four different tests available:

Automatic threshold
Fixed intensity
Growing intensity
Manual mode (Flute Plus only)

Acoustic reflex decay test (Flute Plus only)
Ipsilateral and contralateral stimulation
Non-acoustic stimulation
Test duration: 10 sec or 20 sec (selectable)
Eustachian Tube Function Test
ETF with TM intact: Williams test
ETF with perforated TM: Toynbee test, with customable duration and pressure range
Quick tests
Two user programmable Quick tests available
Each test consists of a sequence of

Tympanometry
Reflex test (Fixed intensity or Automatic threshold, with user defined parameters)

Available stimuli and maximum levels
Attenuator step: 5 dB
Stimuli: 250 (contra), 500, 1k, 2k, 4k Hz
Stimuli (only Flute Plus model): 3k, 6k, 8k (c) Hz, LPN, HPN, BBN, no stimuli
Maximum int.: 110 dB HL (ipsi), 120 dB HL (contra)
Device specifications
Printer
Optional integrated thermal printer
Paper size: 112 mm
Calibration
Validity: 12 months
All the parameters set through the device software
Computer interface
Connection: USB (driverless)
Compatible software: Inventis Maestro
Display
Type: Graphical color TFT LCD
Size: diagonal 4.3", 95 mm x 54 mm
Resolution: 480 x 272
Power supply

Without integrated printer:
Main Unit: 6Vdc, 1.2A
External adapter: 100-240 Vac 50/60 Hz 0.9-0.34A medical grade, responding to IEC 60601-1 standard

With integrated printer:
Main Unit: 6Vdc, 3.2A
External adapter: 100-240 Vac 50/60 Hz 0.9-0.34A medical grade, responding to IEC 60601-1 standard

Mechanics

Without integrated printer:
Size (WxDxH): 32 x 32 x 9 cm / 12.6 x 12.6 x 3.5 in
Weight: 1.9 Kg / 4.19 lbs

With integrated printer:
Size (WxDxH): 32 x 39 x 9 cm / 12.6 x 15.4 x 3.5 in
Weight: 2.4 Kg / 5.29lbs

Freight Packing
Size (WxDxH): 47 x 42 x 35 cm / 18.5 x 15.8 x 13.8 in
Gross weight (without printer): 4.3 Kg / 9.48 lbs
Gross weight (with printer): 4.8 Kg / 10.58 lbs