Clinical audiometer
Piano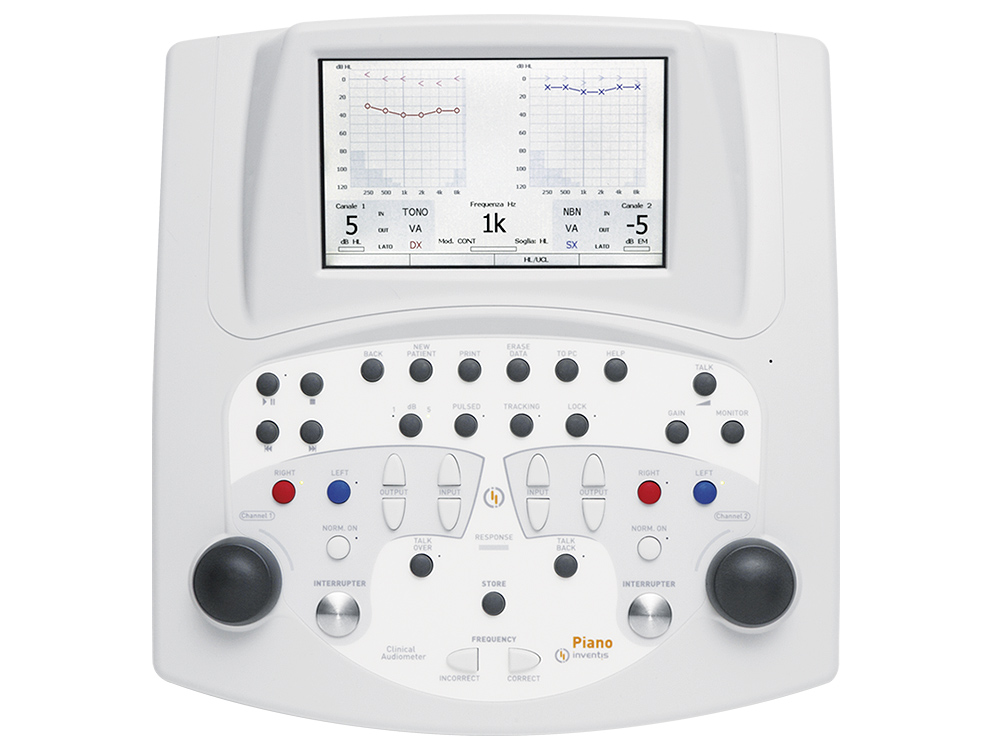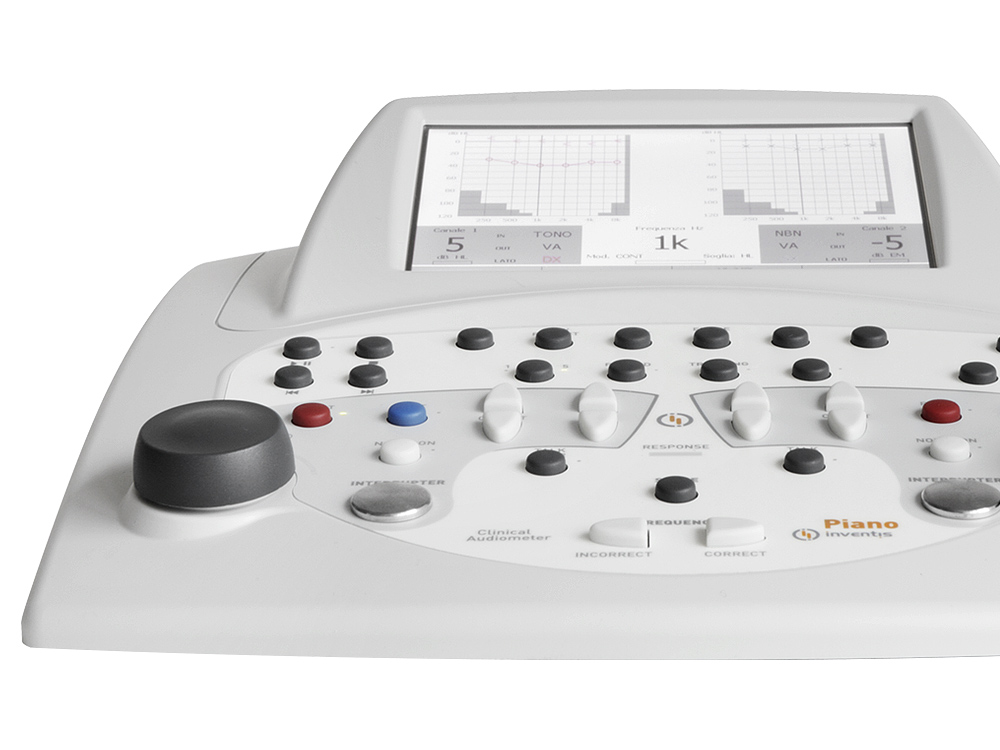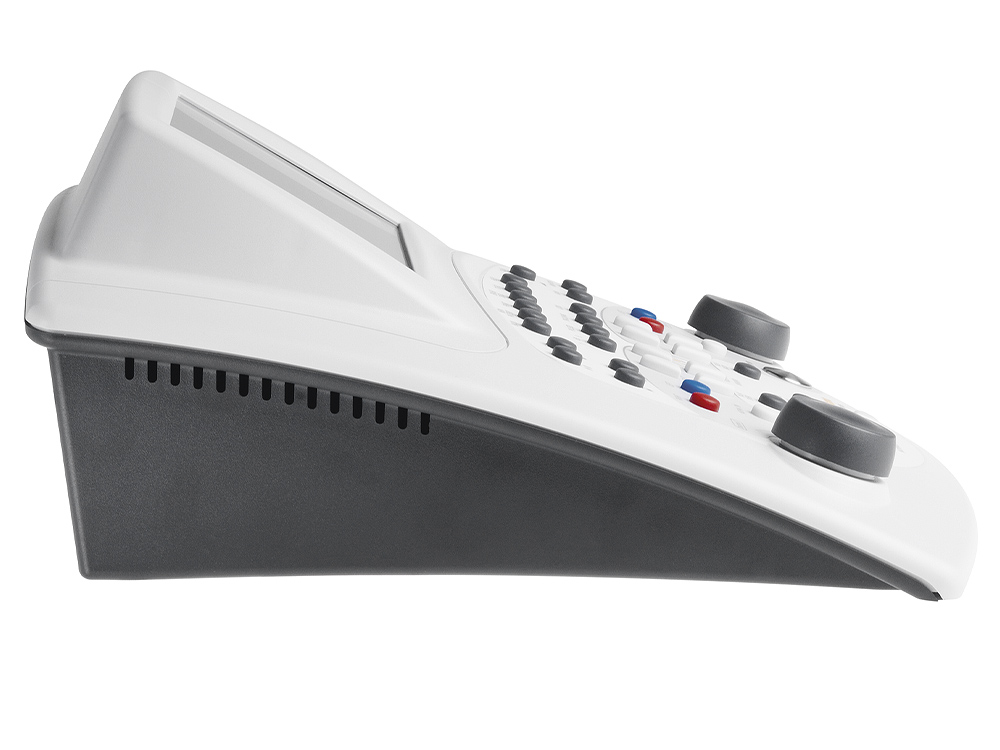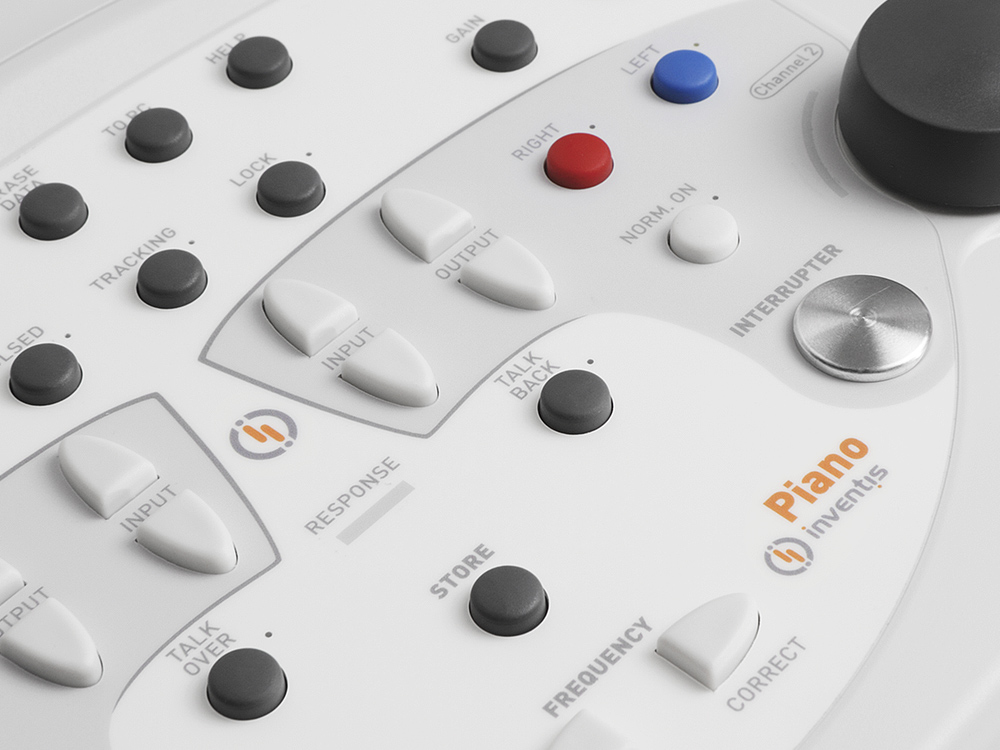 Clinical audiometer
Piano
Piano is an advanced clinical audiometer with two separate and independent channels. Piano features a complete battery of tests, all easily managed via a wide touch screen colour display. High-end features, supreme flexibility and extreme simplicity of use make Piano the ideal choice for clinics and hospitals.
THE MODELS
Piano is available in three configurations to suit different user needs: Basic, Plus and Plus VRA. The three models differ in terms of the number of tests provided.
Piano Basic provides manual and automated pure tone audiometry and speech audiometry, as well as ABLB, Tone Decay, SISI, Difference Limen Intensity (DLI), Monaural Loudness Balancing (MLB), Stenger tests, Ten Test, QuickSIN™ (opt.) and includes a 2 channels Master Hearing Aid.
Plus model offers all the features of the Basic, plus Multi Frequency, High Frequency, Bekesy and Masking Level Difference (MLD).
Piano Plus VRA also features pediatric audiometry capabilities. It can control up to three animated toys connected to the audiometer and up to three LCD displays showing animations and images for video-based visual reinforcement (requires a PC with the software Maestro)
EMBEDDED SPEECH MATERIAL
Piano features an integrated 4 GB flash memory for storing your speech material. Dedicated buttons allow you to access word lists with ease. The screen also displays the word currently being pronounced.
NOAH & MAESTRO INTEGRATION
Simply connect Piano to a USB port on your computer (no driver needed), and you can transfer exam results into Maestro or Noah database. With the live view feature, you can have a wide view of the examination in progress on the computer display.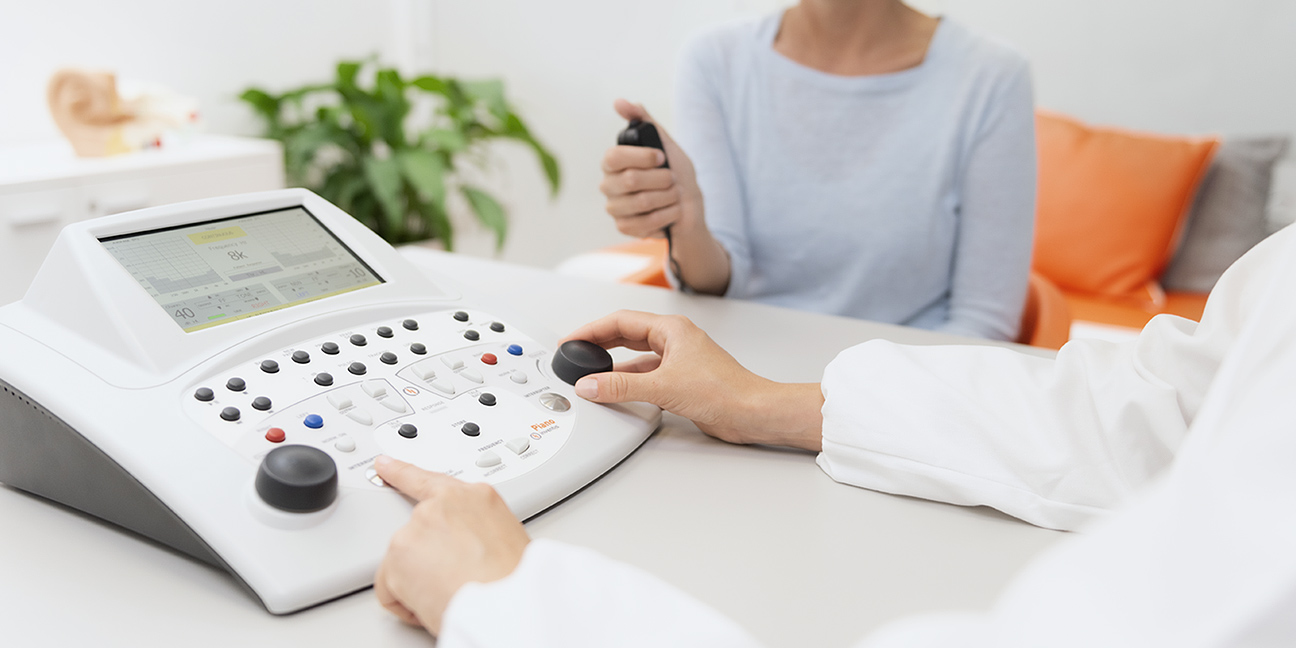 Two independent channels
Piano features two completely separated and independent channels: you can even set different frequencies for Channel 1 and 2.
High-frequency audiometry
Pure tone audiometry up to 20,000 Hz.
Touch screen colour display
Settings available via touch screen, make Piano the clinical audiometer with the smallest footprint

Available signals
Stimulus: pure tone, warble tone
2 external inputs for speech audiometry
MIC input for live speech audiometry
Internal input (flash memory) for speech audiometry
Masking: NBN, WN, SN
Signals specification
Attenuator step: 1 and 5 dB
Presentation: Continuous, Pulsed (0.5, 1 and 2 Hz or custom freq.), Single Pulse (with selectable duration)
Warble: 5 Hz sin wave modulating signal
Available outputs and transducers
AC: TDH-39 or DD45 headphones, ER-3 or IP30 insert earphones, HDA-300 / DD450 headphones (Piano Plus / Plus VRA only)
VO: B-71 bone vibrator
Free field
Insert masking earphone: IME-100
Available tests

Pure Tone audiometry
Auto threshold (modified Hughsone-Westlake)
Speech audiometry (2 channels)
ABLB
MLB
SISI: automatic score; 1 dB increment (5 dB for familiarization)
DLI, with increments between 0 and 5 dB
Tone decay, with 60 or 120 sec. duration
Stenger, with pure tone or speech stimulation
2 independent channels Master Hearing Aid
TEN test
QuickSIN® test (optional)

Only on Piano Plus:

HF audiometry: from 8 to 20 kHz (18 and 20 kHz not displayed in the audiogram)
Multi Frequency: frequency steps selectable between 1/3, 1/6, 1/12 and 1/24 octave
Bekesy Test: 125 Hz to 8 kHz fixed or sweep frequency, continuous or pulsed tone
Masking Level Difference (MLD): noise and / or signal out of phase

Only on Piano Plus VRA:

Visual Reinforcement Audiometry (VRA) test
Conditioned Play Audiometry (CPA) test

Intensity
AC: -10 to 120 dB HL
BC: -10 to 80 dB HL
AC HF: -20 to 90 dB HL
Frequency range
125-8000 Hz
8-20 kHz (only Plus with HDA 300 headphones)
Patient-operator communication
Talk over: built-in or external microphone
Talk back: through built-in speaker or monitor headset (included); clip-on patient microphone included
Up to 2 patient response buttons (left and right)
Monitor signal
Both channels and patient voice monitored through the built-in speaker or monitor headset (included)
Assistant monitor
Available only on Piano VRA version:
The Assistant monitor headphone is used for the operator to assistant communication.
Printer
Optional integrated thermal printer.
Paper size: 112 mm
Internal Flash memory
Used to store the speech material (.wav format)
Capacity: 4 GB (more than 6 hours of speech)
Speech material upload: through ATIT software (incl.)
Calibration
Validity: 12 months.
All the parameters set through the device software
Computer interface
Connection: USB (driverless)
Compatible software: Inventis Maestro
Hybrid technology
Description: Piano can be controlled either as a stand-alone or as a PC-controlled audiometer
It requires Inventis Maestro software.
Display
Type: Graphical colour TFT LCD
Size: diagonal 7", 150 mm x 90 mm
Resolution: 800 x 480
Resistive touch screen
Power supply
External medical grade power supply
AC consumption: 100-240Vac 47-63Hz 0.9-0.34A
DC output: 6V, 4,16A cont.
Mechanics

Without integrated printer:
Size (WxDxH): 32 x 32 x 15 cm / 12.6 x 12.6 x 5.9 in
Weight: 2 Kg / 4.4 lbs

With integrated printer:
Size (WxDxH): 32 x 39 x 15 cm / 12.6 x 15.4 x 5.9 in
Weight: 2.5 Kg / 5.5 lbs

Freight packing
Size (WxDxH): 47 x 40 x 35 cm / 18.5 x 15.8 x 13.8 in
Gross weight (without printer): 4.4 Kg / 9.7 lbs
Gross weight (with printer): 4.9 Kg / 10.8 lbs