Nystalyze • Nystagmus visualization and analysys system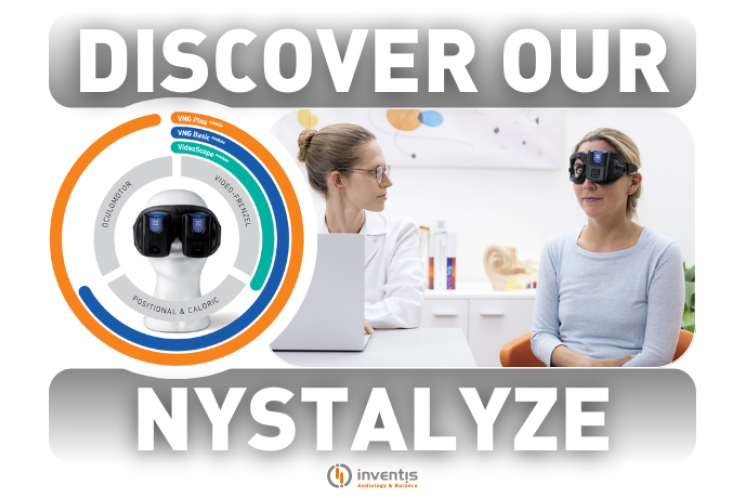 We are excited to announce a groundbreaking development in the field of balance by introducing Nystalyze! This powerful and scalable system has been designed to empower balance professionals in treating patients with dizziness and vertigo.
Nystalyze offers an invaluable toolset, ensuring you have the capabilities you need to make informed decisions and provide the highest quality care to your patients. With three distinct modules at your disposal, Nystalyze can be tailored to the unique requirements of your clinic, allowing you to optimize your workflow and enhance patient outcomes.
What truly sets Nystalyze apart is its wireless camera technology, delivering an unparalleled user experience. This innovation empowers you with the freedom of movement and flexibility, enhancing your ability to provide comprehensive care while ensuring your patients' comfort.
Explore the 3 Modules of Nystalyze
VideoScope Module
Visualize and record eye movements: VideoScope is the Nystalyze module dedicated to the visualization and recording of eye movements. Whether for diagnostic or rehabilitation purposes, this module offers a range of benefits.
Flexibility at your fingertips: with the VideoScope module, you have the flexibility to choose between the unique advantages of a wireless system or a more standard configuration with a wired camera.
Simple and intuitive: our system is designed to be user-friendly, ensuring that you can focus on providing the best possible care for your patients.
Video and audio recording: capture detailed information with the ability to record both video and audio.
 
SYNAPSYS VNG Module Basic
Revolutionary eye movement capture: SYNAPSYS VNG utilizes advanced infrared cameras, instantly capturing eye movements without the need for adjustments, even in challenging conditions such as dark eyelids.
Comprehensive testing: the Basic module includes the positional, nystagmus, and caloric tests.
 
SYNAPSYS VNG Module Plus
Expanding your diagnostic arsenal: the Plus module enriches your offering with oculomotor tests, including saccades, smooth pursuit, optokinetic, and gaze examinations.
We believe that Nystalyze will revolutionize the way you approach nystagmus analysis and treatment. 
Don't miss out on this opportunity to take your clinic's capabilities to the next level.
To learn more about Nystalyze and explore how it can benefit your practice contact our dedicated team at sales@inventis.us.
Thank you for your continued trust in us. 
We look forward to partnering with you in delivering exceptional patient care through our Nystalyze.